"The news that makes this analysis possible comes from Marijuana Moment's Daily Newsletter. Make sure to support the high-quality reporting that keeps us all informed!"
South Carolina Voters Approve Medical Marijuana Question On Democratic Ballot
Medical marijuana is widely popular, particularly among the Democratic Party base, everywhere in the country. Even in some of the most conservative regions. South Carolina just passed a non binding resolution in favor of medical marijuana by over 80% on the Democratic (although it's an open primary so anyone could participate) primary ballot. To still refer to medical marijuana as a controversial issue is only true if you are talking about conservative legislators that are a decade behind their constituents. It's no longer a third rail issue for voters anywhere in the country.
https://www.forbes.com/sites/tomangell/2018/06/12/south-carolina-voters-approve-medical-marijuana-question-on-democratic-ballot/#c764e0c310f4
Pot legalization battle brewing as government rejects key Senate change | CBC News
Cannabis federalism, the interplay between the powers held by the federal and state governments over the control of cannabis, isn't only a significant and complex issue in the United States. It has risen to the top as a key issue of disagreement in Canada. As the Canadian House decides whether or not to accept or reject Senate amendments, the biggest issue of contention is over the rights of a province to prohibit all home cultivation. This issue has the potential to delay full legalization as the federal government says they would not support and defend the provision if it was brought up in court.
http://www.cbc.ca/news/politics/pot-legalization-battle-brewing-as-government-rejects-key-senate-change-1.4703376
More Banks Working With Marijuana Businesses, Despite Federal Moves
Very interesting and encouraging data to see that there was only a slight dip and not a crash in the number of banking institutions working with the cannabis industry. Over the past few years, FinCEN has been putting out quarterly reports that show the number of transactions and depository institutions filing marijuana-related SARs required by the 2014 FinCEN memo.
I thought that maybe after Attorney General Sessions pulled the Cole and other Obama Era cannabis memos earlier this year, FinCEN would stop reporting this data. But thankfully I was wrong. Even better, the number of banks serving the industry only dropped from 412 in December 2017 to 401 in February 2018 and is back up to 411 in March. The FinCEN memo is still standing as independent guidance and it seems like banks are assessing the risk with the Trump administration holistically. Despite the Justice Department pulling the cannabis guidance, they are clearly using their limited resources and bully pulpit to go after migrant families and not licensed cannabis businesses or the banks that serve them.
…While that may be good news for our industry it still makes me incredibly sad and angry for what it means to be an American and the declining morality of our nation.
https://www.forbes.com/sites/tomangell/2018/06/14/more-banks-working-with-marijuana-businesses-despite-federal-moves/#41b14d291b1b
Top New York Health Official Embraces Marijuana Legalization | Marijuana Moment
As expected (the political winds have been shifting and the New York Democratic Party recently endorsed legalization) the New York Department of Health review of legalization will come out recommending that cannabis be regulated and controlled for adults 21 and older. They also will recommend medical cannabis be expanded to include opioid use as a qualifying medics condition.
Of course this report is great news for reform, but there have been hundreds of different positive reports on cannabis reform going back over 40 years and most do not result in policy change. When it comes to the medical marijuana expansion, this can be done through regulation by the Department of Health. So we will very likely see opioid use added as a qualifying condition relatively soon.
But as for legalization, that will take legislation from the New York legislature. The ten existing medical businesses will be lobbying hard, but passing reform in New York isn't easy. The Republicans still hold the New York Senate and until that changes I am skeptical they will be open to passing complex policy change on cannabis that will be viewed as a win by New York Democrats.
With New Jersey considering legalization and Vermont passing a non-commercial form earlier this year, we are clearly entering the stage of legalization by legislature. But cannabis policy reform is complex and still controversial to many state legislators. Be ready for things to start moving slower and /or being more restrictive. We saw this with the expansion of legislative medical cannabis laws that started to emerge at the end of the last decade. Fewer qualifying conditions, limited licenses, and a prohibition on smoking cannabis flower were often included. As a result these programs floundered and some are still just a money pit for the businesses involved. I hope the legislatures can learn from these mistakes before transitioning to adult-use. But particularly with the New York legislature… I'm skeptical.
https://www.marijuanamoment.net/top-new-york-health-officials-embraces-marijuana-legalization/
Republicans In Congress Aren't Planning To Hold Hearings On The Pot Bill Trump Supports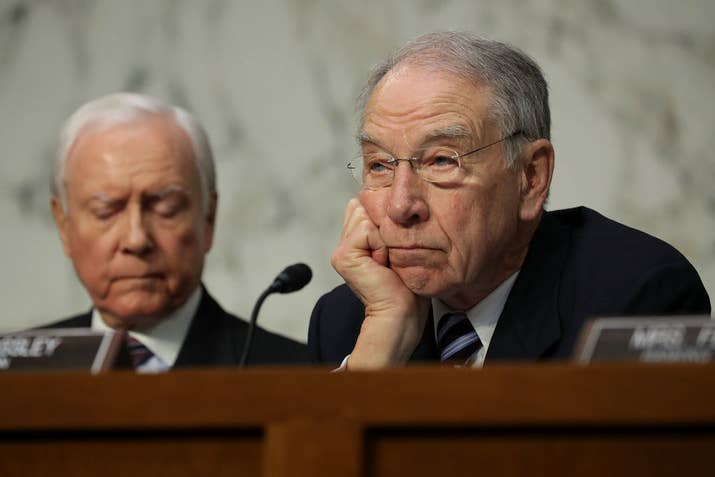 The STATES Act will stand in Congress as a model for bi-partisan compromise on cannabis reform. But this model legislation will not progress in the current conservative Republican dominated congress. Both the House and Senate Judiciary Committee chairs (Rep Goodlatte and Sen. Grassley) stated they had no intention of allowing a hearing on the STATES Act or any other cannabis reform.
It's great to see the President voice support, but as long as conservative Republicans from states without comprehensive cannabis programs hold the most significant levers of legislative power, it seems unlikely that any real reform would reach the President's desk. For cannabis, the 2018 midterm election will be an extremely important one as it will determine whether legalization could conceivably occur in the next three years or the next eight years.
https://www.buzzfeed.com/dominicholden/warren-gardner-marijuana-bill-trump?utm_term=.cfKVvwMar#.ui6Vk6G2a